About Us

Diane Cathey

Cathey's aim, through her characters, is to teach kids all over the world to dream, think, laugh and love – to "hang in there" especially when times are tough.

Diane Cathey, while writing late one night, was interrupted by two young opossums as they frolicked their whimsical nature outside her window. At that time, North America's only marsupial 'the opossum' hadn't been on center stage since Pogo, so she created the POSSUM TWINS.

While Cathey wove the tales of the Possum Twins, Odell and Okie, she brought them to life in a magical setting, the Animal Forest, where they would discover her other creations: cagey K.G. Rabbit, the can-do Tommy Turtle, the happy Rappy Skunk, Sweet-Tweet Sarah Songbird and the mischievous Ajay Bear.

Cathey studied writing for children and teenagers at the Institute of Children's Literature in 1997. She studied the Arts and Crafts of Screenwriting, a course taught by Dyann S. Rivkin, an award-winning writer-producer from Hollywood in 2004. Her first work produced, HERE I STAND, a documentary on the life and legacy of Martin Luther, received an "Honorable Mention" at the 2002 Columbus Film and Video Festival. Just recently, Diane completed a fantasy screenplay, GHOSTALLION, ready to be optioned.

Cathey's love for nature led her to share her passion through reading to the local children in Nashville, Tennessee, where she developed a large following of children, hungry to hear more about the antics of the Possum Twins from week to week.

While realizing the Possum Twins and Friends were so popular with preschoolers and such a strong vehicle for introducing them to important readiness skills while encouraging young and old alike to dream, think, laugh, and love-to "hang in there" through the tough times, Cathey formed Animal Forest Creations.

Email Diane: [email protected]

Dobie Gray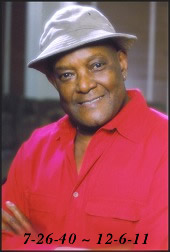 Dobie Gray lost his battle with cancer on the 6th of December, 2011.
Dobie Gray will always be someone special to the Possum Twins and children everywhere. In his words below, Dobie said "This is an experience I shall never forget." Remembering Dobie, while tugging at my own heartstrings, I shall never forget this experience with him--all the fun times we had writing together. Until we meet again, Dobie, "I'll fluff a clump of buttercups and put on a smile for you" just like you encouraged all in your first children's song, IF I COULD BE A RAINBOW. Drift away and rest in peace my dear wonderful friend...
~ Diane Cathey
DOBIE GRAY - singer and songwriter – whose hit recordings include "THE CROWD, LOVING ARMS, OUT IN ON THE FLOOR and DRIFT AWAY (most recently, re-recorded by Gray & Uncle Kracker), was first introduced to Diane Cathey, creator of Animal Forest Creations, at a screenwriting seminar at Border's Bookstore on West End Avenue in Nashville.

For both Dobie and Diane, their introduction would become a meeting of the minds – set in a positive tone of children's' stories and songs filled with imagination. "Diane has a wonderful grasp on the innocence of a child's way of thinking," Dobie said. "It's a great gift."

Artists in assorted fields of music have recorded a number of Dobie's songs, but until now he has never attempted writing songs for children. He credits Diane with bringing that about in his career.
After their meeting, Dobie was invited by Diane to participate in her creations – THE POSSUM TWINS. "The concept was so refreshing," Dobie said. "I jumped right at it." Dobie recently completed two songs for the Possum Twins' project: YOU CAN'T JUDGE CREATURES BY THEIR FEATURES (starring a Skunk Rapper) and IF I COULD BE A RAINBOW (inspired by one of Diane's stories, "Making a Rainbow.")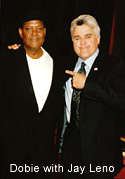 Through the years, Dobie has been involved with various children's and wildlife organizations including Vanderbilt's Children's Hospital, Tennessee School For The Blind, Walden's Puddle Wildlife Rehabilitation Center , Outlook Nashville, The Sumner County Humane Society and Dixieland BMX Races.

"When I read Diane's stories they held such appeal for me," Dobie said. "What really struck a note with me was that aside from her central characters being warm and funny, there was the message of learning and caring that she conveyed in her writings. Those topics and the way she handled them were very close to my own views in that I also have a strong belief in Kids learning good values, kindness and understanding early on in their lives. Diane's concern for the welfare of Animals was also a huge inspiration to me, as I am an avid animal lover, too.

"When I first listened to the Animal Forest songs, I found myself laughing and at the same time feeling a tug at my heartstrings. At that moment, I knew that the POSSUM TWINS and their little friends were something special for children everywhere. This is an experience I shall never forget."
Dobie's love for children continues onward, having donated 100% of his proceeds from the his work on the Possum Twins' project to St. Jude Children's Hospital and Tennessee School for the Blind.
For more about Dobie Gray, please visit his website: www.DobieGray.com

Diane is in the process of taking her songs, stories and characters to children all over the world.
Rave reviews from the critics !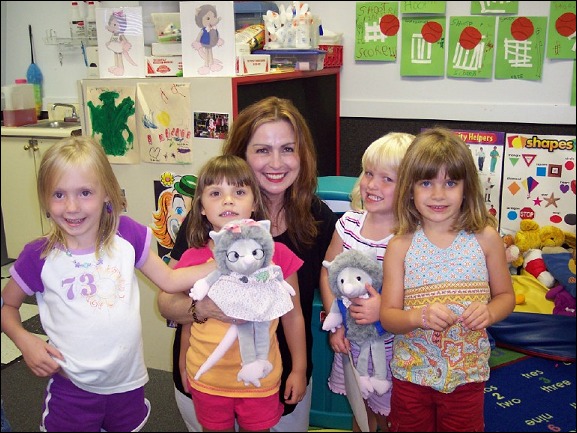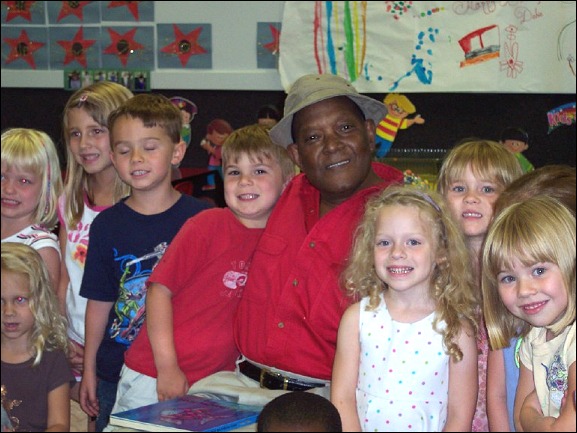 About the Possum Twins
THE POSSUM TWINS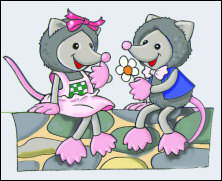 The Possum Twins is a fun-filled learning show in the realm of interactive cartoons, starring two adventurous opossums, six-year-old Odell and her twin brother, Okie, with their Animal Forest friends - the mischievous Ajay Bear, the cagey K.G. Rabbit, the songster Rappy Skunk, the can-do Tommy Turtle, and the lovable Sweet-Tweet Sarah Songbird. The story begins when the aurora borealis dances across the sky, and the Possum Twins, who live among the stars, jump onto a trail of stardust and travel to the Animal Forest, meeting new friends. Throughout their adventures, the Possum Twins introduce preschoolers to important readiness skills while encouraging young and old alike to dream, think, laugh, and love - to "hang in there" through the tough times.

In each eleven-minute episode, the Possum Twins invite young viewers to join them on an adventure with a clear objective. Using a mobile messaging device to aid in finding answers, the Possum Twins interact with viewers to solve problems and overcome obstacles along the way to accomplishing an educational goal, or in a task to complete. Once their objective is achieved, the Possum Twins invite their viewers and Animal Forest friends to celebrate with a dance and sing-a-long to their favorite song "Yes, We Can!" At the end of each episode, Okie plays possum; his eyes glaze over, his tongue lolls to one side, and his body goes limp. Once he's succeeded in alarming his friends, he comes back to life, roaring with laughter.

The familiar routine of the Possum Twins is a way of saying; "It's time for kids to have fun with friends while learning about colors, basic letter and number recognition, the ability to listen, the ability to play well with others and more." While the show is very much interactive, young viewers are encouraged throughout each adventure to participate with the Possum Twins through physical activity and movement. All in all, the show teaches kids about their world - giving them the skills and the confidence needed to solve problems and overcome challenges. When it comes to the Possum Twins, the possumbilities are endless to inspire today's kids to be a future somebody.

The Possum Twins and the others in the Animal Forest are dedicated to teaching and entertaining kids. It's a place where kids learn from what they see and feel good from what they hear - where everyone is a special someone! Join them as they ride the clouds, talk to colors and more!

Story Ideas
THE FIRST ENCOUNTER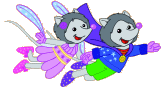 The Possum Twins, Odell and Okie, discover the Animal Forest and befriend Tommy Turtle, who is sad because someone had taken his five favorite hats. Facing the problem head-on, Odell organizes a search for the missing hats, inviting viewers to help. It becomes a real challenge when K.G. Rabbit, who hid Tommy's hats over and under bushes, tries to trip up everyone in their efforts, but by problem solving together and through play, the hats are found. Viewers are given the opportunity to learn basic counting skills, the difference between over and under and that respecting others and their property is the right thing to do.

THE SNOW DANCE


The Possum Twins, Odell and Okie, find a little bear named Ajay playing outside on a cold winter day, counting each snowflake as it falls to the ground. All too soon, the snowflakes stop, and Ajay begins to whine for some winter fun. Okie organizes a snow dance in hopes of making it snow and invites Ajay and viewers to join the fun. Much to Odell's surprise, snowflakes begin to fall and cover the forest. Okie and Ajay show up with their sleds, climbing up a hill and sledding back down. Odell seizes the moment to discuss the concepts of up and down. Viewers are given the opportunity to learn basic counting skills, the difference between up and down and having fun through physical activity and movement.
MAKING A RAINBOW
The Possum Twins, Odell and Okie, find themselves in the middle of an argument between friends in the Animal Forest. Each friend claims that his favorite color is the most important one of all. Odell explains that everything is better when they work together and invites her friends and viewers to help build a rainbow, using examples of specific colors. Odell points out how each one plays an important role with the aid of a mobile messaging device. After a sudden downpour, the characters save themselves from being washed away by joining hands and holding on to the rainbow. Viewers are given the opportunity to learn about colors and to realize that when you love each other and work together, great things happen.

BUMPS, THUMPS, AND CREAKS
The Possum Twins, Odell and Okie, invite friends to a sleepover where they tell ghost stories. Later in the night, they hear bumps, thumps, and creaks and see tiny creatures coming out of the woodwork. At first the Possum Twins and their friends are scared out of their wits, but soon discover that the little creatures are harmless and seeking shelter. With a little help from viewers, the Possum Twins place the Bumps, Thumps and Creaks in the rafters and floors of children's houses. Viewers are given the opportunity to realize that sometime it's not as spooky as it seems.

WINGS


The Possum Twins, Odell and Okie, try to persuade a baby blue bird to learn how to fly, but he thinks it would be too hard for a little guy like him, so he stays in the haven of his nest. When the spring rain comes, the bird's nest is washed away. The Possum Twins are ready to save the baby bird, but they don't know what to do, so with the aid of a mobile messaging device, they ask viewers and Sweet-Tweet Sarah Songbird for help. Sarah gets the baby bird moving with fun exercise that makes his wings strong. Then, along with a bit of encouragement from all, the baby bird jumps out of his nest and flies to shelter. Viewers are given the opportunity to realize that exercise keeps you fit, and even though you might be small - you can do it!

THE ARCTIC ALPHABET
Odell Possum Twin decides she wants to play school. Rappy, a hip-hopping skunk, is the willing student, but Okie Possum Twin

wants to play with his balloon and decides to "play hooky," telling Odell that he is coming down with a terrible cold. When Okie fakes a sneeze, his balloon pops and turns into a hot air balloon, heading toward the Arctic with the three friends on board. When a Jaeger accidentally pecks a hole in the hot air balloon, the Possum Twins and Rappy find themselves stuck in the Arctic. However, Rappy makes the best of the situation by rapping an Arctic Alphabet song, inviting viewers to join the fun. Odell takes the opportunity to introduce the Arctic animals, using the alphabet with the aid of a mobile messaging device. Realizing the aurora borealis lights can take them back to the Animal Forest, the Possum Twins and Rappy wave goodbye to their Arctic friends. Viewers are given the opportunity to learn about our Arctic friends while being introduced to the letters of the alphabet. Okie learns that he was wrong to tell a fib.